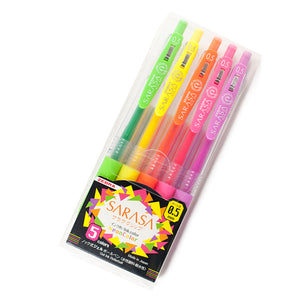 Zebra Sarasa Push Clip gel pens feature vivid ink colours, which match the pen barrels. The rubber grip also makes writing so easy and comfortable. The strong break-resistant binder push clip makes sure your pen is securely fastened to pockets and notebooks.
Like other Sarasa clip pens, this set contains Zebra's classic Sarasa ink: a water-based pigment gel ink. Vivid in color and smooth-flowing, the ink delivers consistent, crisp and clean lines. It is feather resistant, water resistant and fade resistant. The retractable pen tip is sturdy enough to endure hard writing pressure and pen drops. Ideal for notes taking, bullet journaling, office documents and everyday writing. 
This set includes 5 colours: 

Neon Green, Neon Yellow, Neon Orange, Neon Pink and Neon Purple
Tip size: 0.5 mm.
Note:
The packaging you receive may vary slightly from the product photos.